Octopus sashimi stuffed tomato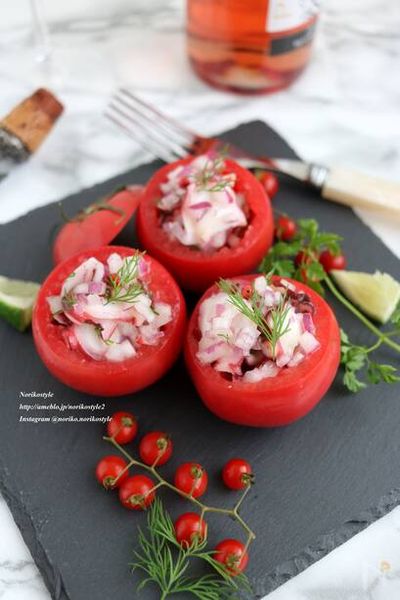 (Source: Norikostyle)
Ingredients you'll need:
- Octopus sashimi (100g)
- Tomatoes (2)
- Shallot (1/4)
- Dill (4 stalks)
- Salt (1/4 teaspoon)
- Olive oil (2 teaspoon)
- Lemon (1/2)
Let's get cooking:
- Dice the shallot and sniff off the leaves of dill.
- Chop off the tops of the tomatoes, scoop out the flesh using a spoon. Put the flesh aside, we're going for the next step.
- Octopus sashimi goes into a bowl, followed by shallot, dill, olive oil and tomato flesh. MIx well until everything corporates.
- Squeeze in half a lemon in the mix to add a little bit more flavor to the dish.
- Finally, fill the tomatoes with the mix above.
you are watching:
Octopus sashimi stuffed tomato